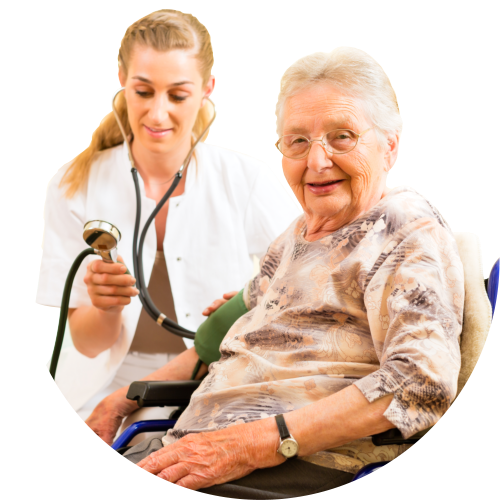 Medicare is for all.
We are a team of facilitators for your process of getting started with Medicare. Our team is 100% trained to lend you a hand in each part of the process.
Even if you have no experience with insurance, we will guide you until you get the insurance you deserve.
Medicare Part A coverage is hospital insurance. It is a part of what is often called Original Medicare, which is run by the federal government. Medicare Part A helps pay for the care you receive when you are admitted as an inpatient to a hospital or skilled nursing facility. Part A may not cover costs if you are in the hospital for observation.

What does Medicare Part A cover? Medicare Part A covers hospital charges and most of the services you receive when you are in the hospital. But it does not cover the fees charged by the physicians involved in your care while you are in the hospital. Medicare Part B helps pay for those costs.

Medicare Part B is health insurance. It is a part of what is often called Original Medicare, which is run by the federal government. Medicare Part B helps pay for the care you get in an outpatient clinic or hospital. It also covers most of the medical services you receive as an inpatient in a hospital.

What does Medicare Part B cover? Medicare Part B covers doctor visits and most routine and emergency medical services. It also covers some preventive care services, like flu shots.

Medicare Advantage Plans, sometimes called "Part C" or "MA Plans" are a comprehensive alternative to Original Medicare. They are offered by private companies approved by Medicare. If you join a Medicare Advantage Plan, you will still have Medicare. This package of plans includes Medicare Part A (Hospital Insurance) and Medicare Part B (Medical Insurance), and generally Medicare Prescription Drug (Part D).
Services covered by Medicare Advantage Plans

Medicare Advantage plans cover all Medicare services. Some Medicare Advantage plans also offer additional coverage, such as vision, hearing, and dental care.
Drug coverage in Medicare Advantage Plans
Most Medicare Advantage plans offer prescription drug coverage (Part D). You can join a different Medicare prescription drug plan with certain types of plans that:
They can't offer drug coverage (like Medicare medical savings account plans).
They choose not to offer drug coverage (like some private fee-for-service plans).
You will be disenrolled from your Medicare Advantage Plan and return to Original Medicare if these two conditions apply:
You are in a Medicare Advantage HMO or PPO plan.
You join a separate Medicare Prescription Drug Plan.
Medicare Supplement 
(Medigap)
Medigap is Medicare Supplement Insurance that helps fill "gaps" in Original Medicare and is sold by private companies. Original Medicare pays for most, but not all, of the cost of covered health care services and supplies.

A Medicare Supplement Insurance (Medigap) policy can help pay for some of your health care costs, such as: Copays, Coinsurance, and Deductibles.

Some Medigap policies also offer coverage for services that Original Medicare does not cover, such as health care when you travel outside of the US.

If you have Original Medicare and you buy a Medigap policy, here's what happens:

Medicare will pay its share of the Medicare-approved amount for covered health care costs.
Then your Medigap policy pays its share.
Eight things to know about Medigap policies:

1. You must have Medicare Part A and Part B.

2. A Medigap policy is not the same as a Medicare Advantage plan. Those plans are ways to get Medicare benefits, whereas a Medigap policy only supplements your Original Medicare benefits.

3. You pay a monthly premium to the private insurance company for your Medigap policy. This monthly premium is in addition to the monthly Part B premium you pay to Medicare.

4. A Medigap policy only covers one person. If you and your spouse want Medigap coverage, both of you will need to purchase policies separately.

5. You can buy a Medigap policy from any insurance company licensed in the state to sell.

6. All standardized Medigap policies are guaranteed renewal, even if you have health problems. This means that the insurance company cannot cancel your Medigap policy as long as you pay the premium.

7. Some Medigap policies sold in the past cover prescription drugs. However, Medigap policies sold after January 1, 2006 cannot include prescription drug coverage. If you want prescription drug coverage, you can join a Medicare Prescription Drug Plan (Part D).

8. It is illegal for anyone to sell you a Medigap policy if you have a Medicare Advantage plan, unless you are switching back to Original Medicare.

We do not
offer every plan available in your area. Any information we provide is
limited to those plans
we do offer in your area. Please contact
Medicare.gov
or
1-800-MEDICARE
to get information on all of your options.
© 2022 All rights reserved